Baseball International's
12th Annual Spring Training Tournament
January 17-20, 2013
City of Palms Spring Training Complex
Fort Myers, Florida
Former Boston Red Sox Spring Training Complex
Imagine having your own spring training at a major league spring training baseball complex each year complete with clubhouse access and between doubleheader lunches. You'll be playing on the same fields as the Pros have (in this case the Red Sox) , play daily doubleheaders to tune your skills, enjoy catered lunches by the same people used by the Pros, and soak in sunny 80 degrees days. Beats the frozen north in January!
We are proud to announce our 12th Annual Baseball International Goodwill Tournament is now open for registration. Our Thursday through Sunday tournament will consist of players from all over the country (and hopefully a few from around the world) traveling to a major league spring training complex stadium for a long weekend of games, sun, and family fun. The 2013 tournament is a wood bat only event just like major league baseball.
Come as a player or as a group wanting to experience international baseball camaraderie. You'll also have the chance to enter baseball immortality by leading your team to victory in Sunday's championship game at City of Palms Stadium. Or at least that's what you will tell your friends.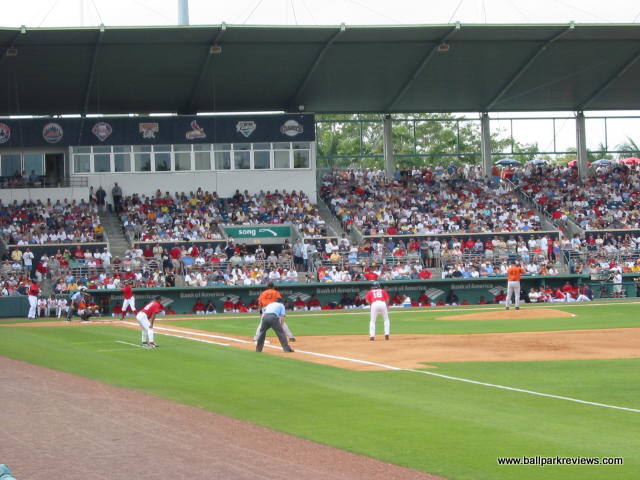 In 2013, we'll be playing at the City of Palms Baseball Stadium and the Player Development Complex located in beuatiful Fort Myers, Florida. The former spring training home of the Boston Red Sox, the City of Palms will be ours for a baseball filled weekend. Each team will play 7 games over 4 days leading up to the championship game on Sunday morning.
Our Spring Training Tournaments use international goodwill rules (no passed balls or stolen bases). If enough teams are interested, we may form a full rules division giving teams the option of playing the full rules baseball as long as both managers agree before the game starts (else goodwill rules will apply).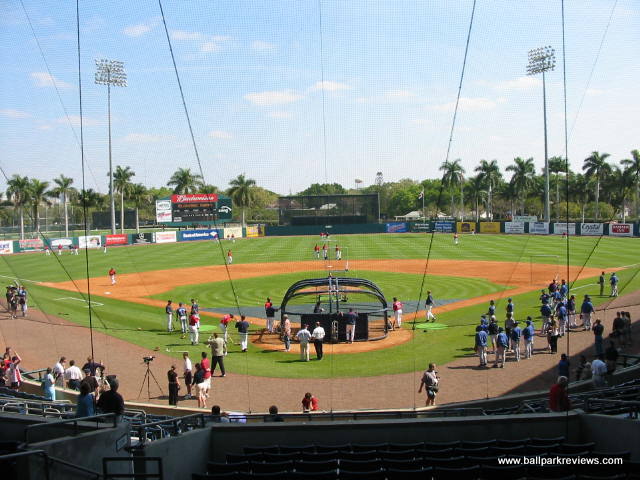 What's included in the tournament registration?
| | |
| --- | --- |
| | Each team will play seven games over the four day tournament |
| | Use of City of Palms Stadium and the Players Development Complex spring training facility |
| | Full use of the clubhouse including daily laundry service, personal locker stalls, and showers |
| | Professional umpires calling all of the games |
| | Batting helmets, catcher's equipment, and baseballs will be provided |
| | Catered lunch at the complex each day |
| | A first night tournament welcome reception |
| | Souvenir (TBD) commemorating our annual tournament for all those registering by December 31, 2012. |
Teams will be dressed in an all star format with each player bringing his favorite uniform from his home country. Each team will consist of around 13/14 players mixed to achieve a competitive balance. Players are responsible for bringing their own uniforms, gloves, and bats.
Our goal this year is to have two divisions, one for organized teams and the other for full goodwill rules teams. Our tournament schedules will be as follows:
Baseball International Spring Training Tournament
Date
Day
Morning
Afternoon
January 16th
Wednesday
---------
Practice Fields at 1-4pm
& 6:30pm Reception at
Ale House
January 17th
Thursday
Game #1 at 9am
Game #2 at 1pm
January 18th
Friday
Game #3 at 9am
Game #4 at 1pm
January 19th
Saturday
Game #5 at 9am
Game #6 at 1pm
January 20th
Sunday
Game #7 at 9am
Noon Farewell!
Register Early To Guarantee Your Roster Spot!
The regular registration fee for individual players attending our 12th Annual Baseball International Spring Training Tournament is $495 for all players registering by December 31st and includes a free polo shirt at the tournament.
MasterCard and Visa are accepted over our secure Internet server while checks are accepted by mail. Interested in a discount? Our player referral program provides a $50 rebate for each player you recruit for our tournament.
If you have any questions concerning our Baseball International Tournament, please feel free to contact us by email or phone.